1998 The Birth of a band
It all started back in 1998. 4 young men (Jan Flygare Bass/Vocals, Niklas Hapasaari Guitar, Fredrik Elenius Drums and Johan Flygare Guitar) with a dream of becoming the hardest rocking band on planet Earth. With nearly no instrumental experience or musicalskills these "men" started writing rocksongs and heartbreaking ballads like no other band in their hometown Kiruna had ever done before.
1999
A great year for everyone. Many songs were written and many hearts broken. It seemed like this band never stopped rocking. Great shows with massive pyro fx. and papiermache dragons.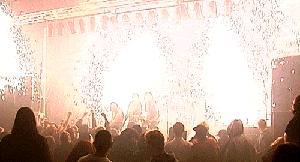 2000
The year 2000, a new millenium and 2 years later the band is still going strong. During 2000 Rocket'Roll gets the oppurtunity to play outside of their hometown for the very first time. On 15th of april they packed their stuff and took the highway 500km south down to the smelliest town in Sweden, Piteå. They had been invited to headline at the Facefront festival. This show was really great dispite that they werent allowed to use their 50Kg of pyros, it was the first show without any stage fx. But still it was a killer show with lots of skin!
2001 New members
In 2001 Jan Flygare aka Jackal the bassplayer and leadsinger had to do some serious surgical procedures because of an broken shoulder. He wasnt allowed to play the bass for 9 months. So after a wet night at the localbar Rocket'Roll had a new bassplayer, Daniel Isaksson.
2002
Rocket'Roll keeps on going strong a lot of new material were written and you can still here some of the songs from that year on concert today!
2003
Daniel Isaksson leaves the band and moves to Stockholm with his girlfriend. Jackal (Jan Flygare) takes the bass position once again. And this time he's intended to stay there until the end of Rocket'Roll.
2004 New Drummer
In november 2004 Fred (Fredrik Elenius) decides to leave the band and focus on his roll as a drummer in Willy Clay Band. 2 weeks later a young man named Jan Thorneus, came by and started to whip the drums. Everyone in the band got stoked and asked him if he wanted to join the band! They had never seen such energy in one place like Jan delivered on that peculiar day.
2005 In the studio
In march 2005 Rocket'Roll leaves Kiruna for Sthlm and Acetone studio to record their first album. 5 days of music, 5 rocking days that resulted in the album titled "Rockaholic Freeloader". The album was released only 4 months later that same year. A great party was arranged at the local waterhole Arran in their hometown of Kiruna. It was a great show with a great and very pleased crowd!
2006 Back in the studio
In march 2006 Rocket'Roll leaves Kiruna for Sthlm and Acetone studio to record their second album. 7 days of music, 7 rocking days that resulted in the album titled "Close enough". The album was released in the summer of 2007 and it seems like the show will never end.